eBay's Trust & Safety Department has finally established a policy that makes sense regarding feedback. Borrowing from Martha Stewart, "this is a good thing".

Excerpted from an announcement by eBay on October 31, 2006:

We're restricting the use of Private Feedback on eBay. Effective today, members with private feedback may no longer create new listings. Members who wish to make their Feedback profiles private can still do so – however, they will only be able to bid on items and must cancel their existing listings. Members with private feedback profiles cannot create new listings.

The original announcement was made on October 2, 2006, and is excerpted:

Feedback is the cornerstone of trust on the eBay marketplace. A seller's Feedback provides buyers the opportunity to make informed decisions about their bids and purchases. It helps instill buyer confidence, and it helps protect the marketplace against fraud.

We believe that buyers should have access to a seller's complete Feedback record before choosing to trade with that seller. For this reason we are restricting selling activities for members who have private Feedback. This is a global change and will affect all eBay sites. The expected date of this change is October 26, 2006.

What will change

Members who have private Feedback profiles will no longer be allowed to list items after this change goes into effect. Only members with public Feedback profiles will be permitted to list items.

Any items listed before the change will not be impacted. However, they may not be re-listed by sellers who keep their Feedback profiles private.

Members who wish to make their Feedback profiles private can still do so. However, they must cancel any existing listings, and they will not be allowed to create new listings as long as their Feedback is private.

It's easy to make your Feedback profile public – just sign in and click on the "Make my profile public" option.

Why we're making this change

eBay offers the ability for members to make their Feedback private as an option when they have significant concerns about a comment. They can hide their comments in this way until they are able to resolve the issue. (Read about Mutual Feedback Withdrawal).

Buyers should have all the information available about their prospective sellers' past trading histories. This helps them make knowledgeable choices about doing business with that seller. Prohibiting members with private Feedback profiles from listing items will ensure we help maintain a safe and well-lit marketplace.

Whether you're a buyer or a seller, your Feedback Profile is a valuable asset that helps earn the trust of other eBay members. We strongly encourage members to keep their Feedback profiles public so everyone in the marketplace can benefit from the Feedback other eBay Community members have left them.

What is so great about this new policy, is that it prevents sellers like the one below from keeping feedback private. Potential bidders will not just have numbers and percentages to evaluate, but can see the actual feedback comments. Note, how many mutual withdrawals this seller has.





To review all of sherinhouston's eBay feedback, click here or here.
Had this seller not coerced her trading partners to agree to mutual feedback withdrawal, her feedback percentage would be in the low 90s, and she would not be a PowerSeller. It's too bad that the trading partners were afraid of the negatives, because the red donuts would not have impacted their future trades at all. Anyone reviewing the feedback can see that the seller does nothing but leave hot headed remarks and retaliatory negative feedback.
Just in case this seller does lose her eBay privileges and becomes NARU, she has already established herself with another selling ID - sherismedia - to continue selling her shoddy products (primarily bootleg copies of karaoke CDs and DVDs she burns herself) with over-inflated shipping charges. Feel free to check the feedback here or here. Both selling IDs have terrible reputations.
To top it off, this seller has a terrible combined shipping policy. She isn't doing her buyers any favors offering combined shipping, and, in fact, the seller makes most of her profit from her shipping and handling fees. This practice is called fee avoidance, and is another eBay violation. And, she won't replace items lost in the mail unless the buyer pays for insurance. Insurance protects the seller - whether insurance is purchased or not, per eBay, every buyer is supposed to receive the items purchased.
Let's do the math and prove the bootlegging seller is making her profit on the shipping and handling fees:
Most of the karaoke CDs the seller lists have an opening bid of 99¢, and the eBay listing fee is 20¢.
Many of the items sell for the opening bid of 99¢, so the eBay final value fee is 5¢.
Buyer's are charged $4.49 for shipping, plus 99¢ for the CD, for a total invoice amount of $5.48.
Buyer makes payment through PayPal, and seller must pay a PayPal fee of 43¢.
Cost of a rewriteable CD and cheap white envelope, purchased in bulk - 25¢.
Cost of a padded mailing envelope, mailing labels and toner for printer - 30¢.
First class domestic postage (2 ounces) - 63¢
Being informed about a bootlegger on eBay ... priceless!
Seller bills out $5.48, less expenses of $1.86, for a net profit of $3.62 - more than 3 times the sales price. That's quite a bit of profit for a karaoke CD that sold for only 99¢. Think about it, the seller charges $4.49 for shipping and handling, yet the rewritable CD and envelope cost 25¢, shipping supplies and postage cost 93¢, and eBay and PayPal fees are 68¢ - how much labor is required to stuff and mail an envelope? Is it reasonable to charge $4.49 for shipping and handling when the shipping supplies and postage amount to 93¢? The seller makes the bulk of her profit not from selling a bootleg karaoke CD that she burns herself, but from the postage and handling she charges. eBay says that sellers may charge a reasonable handling fee, but charging $4.49, when the out-of-pocket expenses are 93¢ is gouging.
Here's a photograph of one karaoke CD a buyer received in 2005. Note that there isn't any cover art, just a simple, cheap white CD envelope that can be acquired anywhere.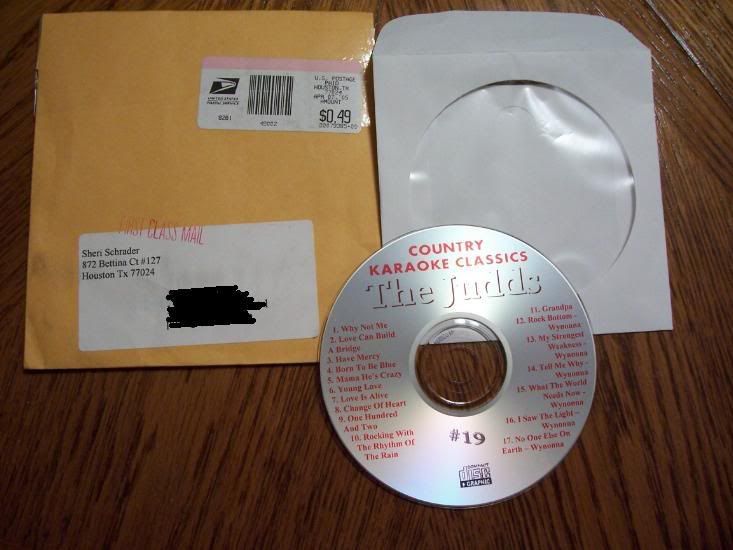 The next photograph shows the real sleeve that this specific karaoke CD is supposed to be in. Note the glossy cover art and the green label (a price tag).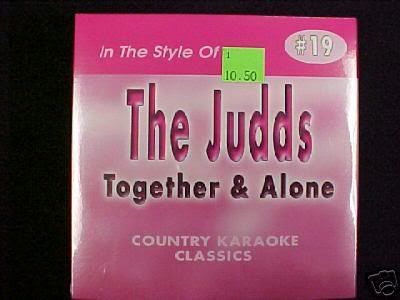 sherinhouston/sherismedia is an eBay seller that everyone should avoid. Do yourself a favor and avoid the headaches. Buy quality merchandise from sellers that have sparkling reputations. For further information, do a Google search on the selling IDs - you might be surprised about what others have posted about her all over the 'Net.
Each time you purchase a bootleg CD or DVD, you are depriving the artists, actors, producers, directors, etc., of the royalties that they deserve to be paid. Do not condone the behavior of criminals like this eBay seller. Do not buy merchandise from known bootleggers.
Always check out your trading partners before you enter into a transaction. Just remember, you have been warned here at The Nekkid Truth.
UPDATE
On January 2, 2007, eBay finally NARU'd the account "sherinhouston", and followed up by also NARUing the account "sherismedia" on January 4, 2007. Good riddance to bad rubbish. Her eBay "Me" pages were also destroyed.
If you recently purchased items and made payment to either selling ID via PayPal, but have not received your merchandise, immediately file a claim with PayPal to get your money back. If PayPal denies your claim because there aren't any funds in the seller's account, immediately contact your credit card carrier or bank (if you used a debit card) and request a chargeback.
If you have not made payment and received a TKO notice from eBay, you do not need to follow-through with the transaction. If you have not received a TKO notice for any recent transactions, you should check with eBay.
Since this information is public record, and found on other websites on the Internet we are providing Ms. Schrader's contact information in case anyone needs to reach her.
Sheri Schrader
872 Bettina Ct #127
Houston, Texas 77024
(713) 365-0051
We are sure that the Texas State Treasurer's Office will be contacting Ms. Schrader soon for tax evasion, as we do not believe that Ms. Schrader ever paid taxes to the State of Texas on the income she derived from selling bootleg copies of CDs on eBay. For that matter selling bootleg copies of CDs is illegal too, so perhaps, either the District Attorney's office in the county Ms. Schrader lives in or the State Attorney General's Office also might be interested in contacting her.
UPDATE - APRIL 9, 2008
It has been reported to this blog and through posts made to this specific blog entry that Sheri Schrader and her partner in crime, Doug Collett have re-emerged on eBay selling their bootlegged CDs and DVDs, and other sundry junk under the user ID
starbooksnstuff
, registered on October 2, 2007, exactly 10 months after the IDs
sherinhouston
and
sherismedia
were NARU'd. It appears that eBay has not NARU'd this new ID, and we call for Matt Halprin, Vice President of eBay's Trust & Safety Department to appoint someone in his department to investigate. The NARU'd IDs and the current selling ID are all based out of Houston, TX, and the new ID is selling the same bootleg junk, with the same gouging shipping and handling fees that the old ID's were selling, and were subsequently NARU'd for. eBay needs to investigate - if the contact information doesn't match up, everything else does - location of seller, same bogus karaoke CDs, DVDs and books sold previously, outrageous shipping and handling fees, and the same arrogance as before. To top it off, as a buyer, the same type of baseball cards are being purchased. eBay does not need to have a 10 point match (as the detective shows say about fingerprints) to determine that the sellers are one in the same. This new selling ID needs to be NARU'd. There is enough evidence for eBay to see that the NARU'd sellers are operating under a new selling ID. Unfortunately, it is possible that eBay needs the fees it is getting from this arrogant selling team as it continues to allow these unscrupulous sellers to operate against eBay policy.
Below, is a recent exchange of emails that has taken place with an eBay member that purchased a bootleg item from
starbooksnstuff
aka Sheri Schrader, Doug Collett and their former NARU'd eBay IDs
sherinhouston
,
sherismedia
, and
doug_in_houston
. The email responses from
starbooksnstuff
wreaks of arrogance.
I have recently purchased from the claimed new version of this person "starbooksnstuff". I received the CD, a copy anyways. It works even...but, three weeks ago when I paid, then asked him if he recieved payment...a whole new person emerged. Please read this (I posted it on a local forum for thoughts):

I purchased an item from ebay about 2 weeks ago. After purchasing the item, I did not receive any conformation or notification of monies spent, so I messaged the seller. All I said was: I am writing in regards to my item, I would like to know if you recieved payment and know when its going to ship.

He responds with: I am super busy, I will be shipping it out, don't worry. Pretty much blowing me off.

So, another week goes by. Now Im a little irritated. The seller lives in houston, crap you can mail something to me regular postage and it will get here in three days TOPS.

So I email him again, simple message: Has the item been shipped? I have not heard from you?

His response (copied from email): Item has been sent and tracking was also emailed to you. Please check your bulk email folder as sometimes it goes there. Thanks.
- starbooksnstuff

So I checked, no email (Im thinking we're having a simple friendly business transaction), I write him: There was no email, can you please resend it?

His response: I can't get to that computer right now as it is at the office. Please just allow the proper time for it to get there and be patient like the 100 others that ordered this week. Give it one week. If it isn't there by then, let me know. This doesnt' have to be this difficult nor does it have to become an issue. I send out that information the day it is mailed which I won't know unless I can look it up which I can't right now. It would have been this week sometime. Can you just give it a few days please

So, again he blows me off. Now Im irritated, he's a dick. The product finally shows up yesterday. So, I go to write feedback and leave him with:

seller seems too busy for his clients. Poor transaction service, product is ok. Buyer: crazee240sx ( 39) Apr-07-08 14:50
Reply by starbooksnstuff (Apr-07-08 19:51):
I answr all emls & snd trking right away - excess emls frm custs do take up time
Follow-up by crazee240sx (Apr-07-08 20:42):
2 emails sent. now is harrassing me through email and leaving unwaranted feedbak

Reply by starbooksnstuff (Apr-07-08 21:19):
crazee240sx, pls stop sending your emls then accusing ME of the harrassment

Now, here is the behind the scene bullsh*t:

Dear crazee240sx,

You know, it is sad when people have spam blockers set up so when you ARE sent emails with tracking, you never get them and then I have to deal with all the emails and finally poor feedback because you didn't get your hand held or cuddled in a transaction. I try hard to please hundreds of customers each week and yes, I do get busy and I do the proper things to inform my customers of shipments, but it is just as important as a cutomers that YOU not be overbearing - this is why feedback works BOTH WAYS. Hopefull you learn from that not hassle others - you're VERY overbearing and it isn't necessary. You truly should realize that some sellers spend a LOT of their time to make people like you happy and hourly, we don't make a whole lot responding to unnecessary emails. Maybe you should realize that instead of your 'customer rights'. This isn't a Walmart and I'm a human being. Thank you.

- starbooksnstuff

My response:

Dear starbooksnstuff,

Arrogant emails like this is the reason for my feedback. You have time to write me a paragraph about your lack of business etiquette, when you could be filling orders. Being polite and resending some simple tracking information is pretty simple. It took you a week and I had to contact you for information regarding our transaction. Pardon me for being concerned for my money. Good luck with your company.

- crazee240sx

Him: Dear crazee240sx,

Well ignorant emails like yours is the reason for you negative feedback...that's right loser, I have the time to respond to emails...and when an idiot like you who needs to be constantly babysitted comes along because you're so pathetically INSECURE, then I deal with trash like you the way I always do, I just kick it to the curb...judging by your ignorance, you're used to that - now get lost loser. I sent you tracking information and it isn't so simple to send it again - why not practice some SIMPLE patience like every other eBayer who don't need THEIR little hands held and stop directing your emotional issues at others. Your greedy concern over your money is meaningless...you can be concerned when enough time passes by that there is something to be concerned about - the fact that I emailed you should have been reassuring enough - you don't need to cry every day until your item shows up - it isn't like you spent 100.00...How far do you think your 9.48 takes you with my time? If it wasn't for jerks like you, I'd HAVE the time to spend getting stuff done - think about it - now get lost.

- starbooksnstuff

Him again: Dear crazee240sx,

That's right - for someone to cry like you did and leave ANYTHING less than positive deserved a negative from me. Unless there was a real issue other than your emotional selfish issues, then there is no reason for ANY poor feedback. You got your item in a timely manner - sorry I didn't hold your hand along the way.

- starbooksnstuff

Him again: Dear crazee240sx,

And yeh, I don't talk to customers this way, but as far as I'm concerned, in case you didn't get the memo, you are no longer a customer - take care and have a nice day. I have 99.5% of my customers happy - if you do the match, that's 199 in 200 - 1 out of 200 unhappy - gee, I must be doing something right - I'm glad I don't have more insecure customers like yourself - I mean, geez, 9.48 - wow, you need to protect your investment - what a schmuck.

- starbooksnstuff

Finally me: Dear starbooksnstuff,

Ok greg, here's the deal. I have copies of all of this slander. Hard copies that I am ready to make public. Now, would you like to quit acting like this and resolve this "feedback" issue, or would you like to keep sending me slander? Your attitude is not necessary. Feedback is an honor system that you have abused. I left you a nuetral feedback with nothing more than "room for improvement". You take my 9.48 for granted, well, I dont understand why you're in the business if 9 bucks aint "worth your time". I would love to remove both feedback scores from our accounts and bid each other good day if you so choose.

- crazee240sx

Now him again:

Dear crazee240sx,

Print out the copies and hand them to all your wah wah friends, I could care less..what you MIGHT want to do though there Einstein is learn the difference between someone putting you in your place and 'slander'. I honestly care less that you got your little feeling hurt. It only solidifies my position in you needing your little hand held in the first place. Now go whine to someone else who might care - email eBay. They won't care. I have every right to respond to issues and you weren't cursed in any manner. Now go wah wah wah to someone who might care you little loser. There's nothing to resolve and your threat by the way IS against eBay policy whereas you can't make threats to someone to thwart a feedback change. Now why don't you go shut your hole and get a life. Bye bye.

- starbooksnstuff

And AGAIN:

Dear crazee240sx,

What I choose is for you to shut your mouth, get a life and move on. I don't take lightly to your pathetic threats of 'going public' with your hurt feelings which I could care less about. I don't take anyone's 9.48 for granted, but your 9.48 certainly wasn't worth the TIME if you can get that through your ignorance that I had to spend to deal with it, now was it? Are you truly that stupid to understand that? But for you to sit there and need your little hand held because you were so worried about little 9.48 doesn't say much about your as a person. Now I'll say it again - GET LOST LOSER!

Thats all him...I have all documents saying these things..Who do you recommend I contact??
UPDATE - NOVEMBER 7, 2008
Evil pirating duo, Sheri Schrader and Doug Collett are selling their bootleg CDs on eBay again under the user IDs
houstonsportz
and
texasbaymusic
. I wonder why these fools always gravitate to creating user IDs relating to Houston and Texas. Check their feedback --
http://feedback.ebay.com/ws/eBayISAPI.dll?ViewFeedback2&userid=houstonsportz&ftab=AllFeedback
http://feedback.ebay.com/ws/eBayISAPI.dll?ViewFeedback2&userid=texasbaymusic&ftab=AllFeedback
Contact information is:
The address for houstonsportz and texasbaymusic is as follows:
houstonsportz on eBay
PO Box 841055
Houston, TX 77284
In feedback, there are too many mentions of bootleg CDs being sold as originals and ridiculously high shipping. But, alas, buyers may leave honest feedback and do not have to fear receiving retaliatory feedback from this evil duo. Best of all buyers, can put these cretins out of business by dinging the Sheri's and Doug's star ratings by leaving 1 star at each level instead of 5. eBay will quickly give this evil pair selling restrictions. Unfortunately, these poor sellers will just reappear under new selling IDs. But, keep track of them and report the information here.
On another note, this evil selling pair charges $2.00 for optional insurance. Please report this seller to eBay, as it is against eBay policy to charge more for insurance than what the United States Post Office charges. This seller may not profit from insurance. In fact, it is
ABSOLUTELY NOT NECESSARY
to purchase shipping insurance from a seller if you pay through PayPal. PayPal requires all of its sellers to get their items to their buyers in the condition stated. If items are damaged during shipment, sellers are required to rectify the problem. All buyers need to do is file
Significantly Not As Described
or
Item Not Received
claims through PayPal. If sellers do not cooperate, buyers should escalate their disputes to claims and wait for PayPal to resolve the issue. Remember, that if you do win a
Significantly Not As Described
claim through PayPal, you must ship the item back to the seller with online trackable delivery confirmation to satisfy PayPal. Once proof is provided to PayPal that the item was received at the seller's location, PayPal will refund the buyer up to the protection plan stated by PayPal.
At least eBay has implemented restrictions on shipping charges; unfortunately, this evil selling duo does not offer combined shipping. But, with just one mention of the words "bootleg" and "fake" in the seller feedback, it makes absolutely no sense that anyone would buy from these selling IDs at all.
CAVEAT EMPTOR!!! BUYER BEWARE!!!