Today, Team Whack a Hack found the worst kind of eBay bottom feeder, a newly registered seller with misleading listings, selling photographs of electronics items. If you read the listings closely, you will see that the seller, hotseller9012, is intentionally misleading buyers into thinking that he is selling consumer electronics. Upon payment to the seller, what will be delivered to each buyer is a photograph. The thief has been listing Nokia N95 cell phones, Apple iPods, Toshiba Satellite laptops, Nintendo WII Game Consoles, and T-Mobile Sidekick 3 cell phones.

An example of one of the 21 listings says:

NOKIA N95 --SEE DESCRIPTION FOR DETAILS GREAT DEAL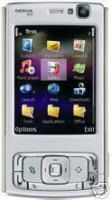 DEAR BIDDERS!!!!!

You are bidding on exactly what you see (

the picture of the Nokia N95

).!! THIS IS ONE OF THE COOLEST PHONES OUT. You will deffiantly be in style with this.
IF ANYTHING IS UNCLEAR PLEASE ASK BEFORE BIDDING

-will ship via priorty mail on February 25, 2006
-NO RETURNS
-I ONLY ACCEPT MONEY ORDERS/CASHIERS CHECK
Click on the thumbnail to see the listing.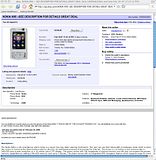 Buyers will have no protection through eBay or PayPal because the seller only accepts money orders and cashier's checks.
Sellers like this give eBay a very bad reputation. Bottom feeders think they won't get caught. We are exposing this bottom feeder for who he really is, a thief. This thief belongs in jail, and it is our hope that District Attorney's Office in Passaic County, New Jersey will receive enough complaints to file criminal charges against him.
The thief's name is
Jon Udrija
. He was born in 1955 and resides at
33 Mountainwood Court, Totowa, NJ 07512
. The telephone numbers are
(973) 956-1882
and
(973) 766-4248
. We believe Mr. Udrija either currently is or was a soccer coach for 6th, 7th and 8th graders for the
Totowa Police Athletic League
.
If you have been deceived by Jon Udrija and entered into a transaction and only received a picture from him, please contact the New Jersey State Police Cyber Crime Unit at
(609) 584-5051 Ext. 5673
. Team Whack a Hack has already been in contact with the New Jersey State Police Cyber Crime Unit, however, we were informed that the victims must file complaints themselves.
Victims should also file online complaints with the
Internet Crime Complaint Center
and the
New Jersey Division of Consumer Affairs
.
Additionally file a complaint with:
Passaic County Department of Law & Safety
Department of Consumer Protection
1310 Route 23 North
Wayne, New Jersey 07470
Telephone: (973) 305-5881
Mr. Udrija, we want you to know that you might think you will get away with this scam, but you won't. To aid in your prosecution, we have screenshots of each of your listings and will provide them to the authorities upon request. It is our hope that you get what you deserve - paying restitution to the victims you defrauded and a long sentence in jail.
UPDATE - FEBRUARY 10, 2007
Thanks to the efforts of one of the diligent members from Team Whack a Hack and his conversation with Live Help agent, Bryce B., we can now report that Jon Udrija is no longer a registered user.